600,000 Signatures and Counting for the 21st Century Glass-Steagall Act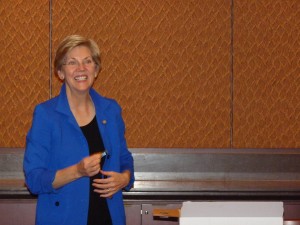 July 9, 2014: Senator Elizabeth Warren receives petitions from
Susan Harley of Public Citizen and Lisa Donner of Americans for Financial Reform
For over half a century, the Depression-era law known as Glass-Steagall kept traditional banks separate from the high-risk world of investment banks and hedge funds. Uncle Sam agreed to insure our deposits. And the banks, in return, agreed not to use those deposits to try to make money for themselves gambling in the Wall Street casino.
That all changed with the industry-backed deregulation of the 1980s and '90s. Once again, banks gained the ability to play risky games with government-backed funds, setting the stage for the financial and economic meltdown of 2008.
Now Senators Elizabeth Warren, John McCain, Maria Cantwell, and Angus King have introduced a bill that would make the biggest banks simpler and smaller and once again end the public subsidy to Wall Street speculation. By requiring banks to focus on lending to the real economy, the 21st Century Glass-Steagall Act would point the way toward a financial system that better serves consumers, small businesses and the nation as a whole.
Please share this link with friends and co-workers:
http://bit.ly/Ql3lJA