Home » Statements and Press Releases
Joint Statement: Over 222,000 Call on Congress to Reject the CHOICE Act
Submitted by admin on June 6, 2017 – 2:17 pm
FOR IMMEDIATE RELEASE: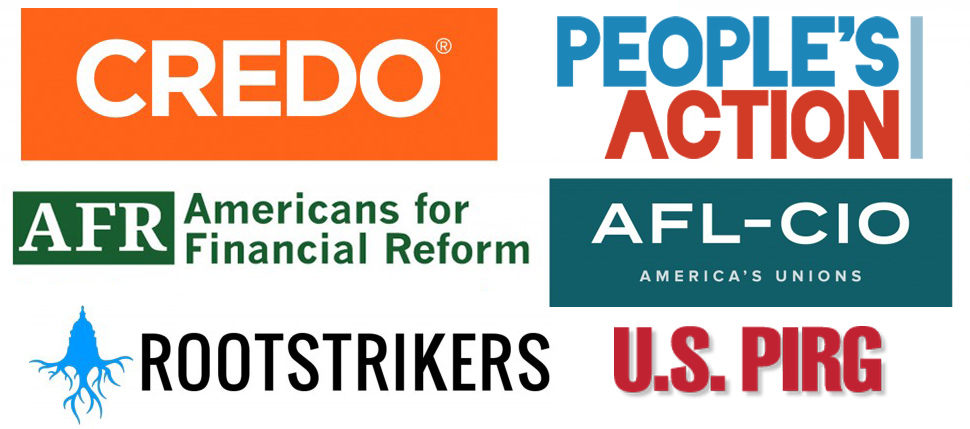 June 6, 2017
Contact:
Carter Dougherty
Communications Director, Americans for Financial Reform
carter@ourfinancialsecurity.org / 202-251-6700
Kathy Mulady
Press Secretary, People's Action
k.mulady@peoplesaction.org / (206) 992-8787

Josh Nelson
Deputy Political Director, CREDO Action
jnelson@credoation.com / 202-550-6175
Today, a coalition of organizations representing workers, consumers, and families struggling to get by delivered a petition with over 222,000 signatures calling on Congress to oppose the Financial CHOICE Act and any other assaults on Dodd-Frank and the Consumer Financial Protection Bureau.
Americans for Financial Reform, CREDO Action, People's Action, the AFL-CIO, and Rootstrikers delivered the 222,820 petitions to Congress.  In-person petition deliveries are also taking place this week at local congressional offices in Tennessee, New York, and Michigan.
The groups blasted the legislation as a massive giveaway to an industry that brought the global economy to its knees less than 10 years ago:
"Rep. Jeb Hensarling's legislation to gut Dodd-Frank – the Financial CHOICE Act – is a gift to the too-big-to-fail banks, predatory lenders and high-paid Wall Street lobbyists," said AFL-CIO President Richard Trumka. "It is dangerous for working people and takes away important protections against predatory lending that consumers need and deserve. The CHOICE Act would expose our whole economy to future Wall Street crises."
"With a big bank puppet in the White House and a Goldman Sachs administration, House Republicans have dreamt up a giveaway that goes beyond what Wall Street hoped for," said Murshed Zaheed, Political Director, CREDO Action, "No Democrat should spend a split second considering supporting shredding Wall Street reform."
"The wrong CHOICE Act would gut the CFPB's ability to protect us from Wall Street predators and gives a free pass to the big banks and loan sharks that brought our economy to the brink of collapse. . We refuse to let Rep. Hensarling and the GOP destroy the critical protections we've won," said Liz Ryan Murray, Policy Director for People's Action & People's Action Institute. "Congress must immediately reject this Wall Street wish list. We demand our elected representatives look out for our families, not corporate profits."
"This bill would increase the risk of another 2008-style economic crash, just so a handful of bankers and hedge fund managers can make an extra buck," said Kurt Walters, campaign director at Demand Progress's Rootstrikers project. "We've already seen that darkest timeline: a massive foreclosure crisis, unemployment and under-employment, and a generation of college graduates entering a weak job market saddled with bone-crushing debt. Congress must reject the disastrous Wrong CHOICE Act."
"This legislation takes the worst ideas concocted by Wall Street and predatory lenders, and combines them into one toxic package," said Lisa Donner, Executive Director of Americans for Financial Reform. "The bill is crammed with deregulatory gifts to the entire industry, including megabanks that want to return to the excessive borrowing and risky practices that led to the financial crisis."
A compilation of the individual petitions can be found below:
Tags:
CHOICE Act
,
Dodd-Frank
,
Wrong CHOICE Act