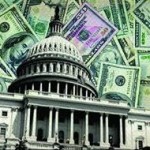 View or download full report here.
In the now completed 2013-14 election cycle, Wall Street banks and financial interests reported spending more than $1.4 billion to influence decision-making in Washington, according to an updated report released today by Americans for Financial Reform.
That two-year total works out to more than $1.9 million a day, or an average expenditure of about $2.6 million to elect or influence each of the 535 members of the Senate and House of Representatives. More than 340 financial sector companies and trade associations spent at least $500,000 each during this period.
In 2013-2014 the financial industry exceeded its rate of spending in the 2010 election cycle, when the industry was working to stop or weaken the Dodd-Frank Wall Street Reform and Consumer Protection Act as it made its way through Congress. This continued high level of spending reflects the ongoing battle to reshape the financial system, and the industry's persistent efforts to repeal or win exemptions from parts of the law, to weaken implementing regulations, and to forestall further proposals for change.
"Wall Street Money in Washington," a 48-page examination of various forms of political spending, draws on data compiled by the Center for Responsive Politics (CRP), including data produced specifically for AFR in order to provide a more precise look at financial industry spending than has been possible in the past. The special data is based on the standard FIRE (Finance, Insurance and Real Estate) category but removes amounts otherwise included in this category spent by health insurers.
Highlights of the report include:
Campaign Contributions. Individuals and entities associated with the financial sector reported making $497,032,612 in contributions to federal candidates for office during the 2013-14 election cycle.[1] The financial sector's contributions were more than twice that of any other specific business sector identified in the Center for Responsive Politics data. Of the $326,894,582 contributed by PACs and individuals associated with finance (and party-coded), 63% went to Republicans and 37% went to Democrats.
Lobbying. The financial industry reported spending $908,019,488 on lobbying in 2013 and 2014.[2] This puts the sector in second place, very close behind a category of "Miscellaneous Business" companies and trade associations, which spent $1,034,893,497; the miscellaneous business category includes groups, such as the US Chamber of Commerce ($234,467,336 total expenditures), that also lobby on financial issues.
In calendar year 2013, there were 2,218 registered lobbyists working for the FIRE sector and in 2014, there were 2,172.
Big Spenders. The companies and trade associations in the sector with the highest level of combined spending on lobbying and contributions (from their PACS and employees) include:
National Assn of Realtors (NAR) – $108,600,587
Bloomberg LP – $29,507,919
American Bankers Assn (ABA) – $21,793,285
Prudential Financial – $17,063,418
Wells Fargo – $14,997,935
JPMorgan Chase & Co – $14,332,987
Elliott Management – $14,132,223
MetLife Inc. – $14,038,168
Credit Union National Assn (CUNA) – $13,916,950
Securities Industry & Financial Market Assn (SIFMA) – $13,460,675
Citigroup Inc. – $13,317,526
Investment Company Institute (ICI) – $12,370,873
Financial Services Roundtable (FSR) – $12,154,954
Goldman Sachs – $11,690,474
Renaissance Technologies – $11,279,933
The report details the spending by each of 344 financial sector companies and trade associations with at least $500,000 in declared lobbying expenditures and campaign contributions for the current election cycle. It also breaks out the contributions to members of the Senate Banking Committee and House Financial Services Committee, and highlights a set of conspicuously large contributions to members of Congress from a particular financial firm or FIRE industry. In addition, the report includes graphs showing and comparing the amount spent by the financial industry on contributions since 1990 and on lobbying since 2000.