New AFR Report: Payday Pay-to-Play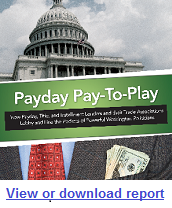 READ OUR REPORT. Payday, title and installment lenders spent more than $13 million on campaign contributions and lobbying during the 2014 election cycle, according to a new report from Americans for Financial Reform, which highlights the top congressional recipients. Click here for the full report.
---
SIGN OUR PETITION: Tell Congress to Stand Up to the Payday Lenders and Stop the Debt Trap!
Dear Members of Congress:
Payday loans are deceptively marketed as a quick financial fix, but in reality create a long-term cycle of debt. The typical payday loan carries 391% annual interest. A family that couldn't afford to pay living expenses before obtaining a payday loan cannot shoulder the additional burden of triple-digit interest… Outrageous interest rates and abusive access to borrower's bank accounts mean that these lenders profit precisely by making loans to people they know can't afford them… Read more and add your name.