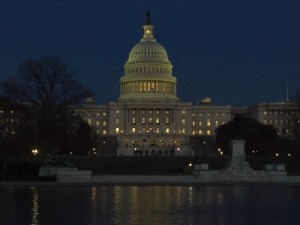 FOR IMMEDIATE RELEASE
April 30, 2019
CONTACT: Carter Dougherty, carter@ourfinancialsecurity.org, (202) 251-6700
Wall Street Money in 2017-18 Highest Ever for Non-Presidential Cycle
Financial services industry pumps $1.9 billion in contributions and lobbying into politics
Washington – Wall Street poured at least $1.9 billion into the political process, the largest-ever amount for a non-presidential year, according to a new report by Americans for Financial Reform. This sum outstrips the total of $1.4 billion, in the 2013-14 election cycle, by 36 percent.
The figure, which includes contributions to campaign committees and leadership PACs ($922 million) and lobbying expenditures ($957 million), reflects a massive rush of pro-industry nominees and legislation over the last two years, at a time when the biggest banks made $100 billion in profits for the first time. Industry subsequently spent heavily to influence what became one of the hardest-fought mid-term campaigns in decades.
"The last election cycle demonstrated yet again that Wall Street political spending produces policies that will do lasting financial damage to most Americans, including massive tax cuts for big banks, fewer consumer and investor protections, and other policies that that drive inequality and economic vulnerability," said Lisa Donner, executive director, Americans for Financial Reform. "Year after year, big money in politics helps Wall Street rig the system in its own favor, and against the rest of us, and insulate itself from accountability, even though voters across party lines oppose so many of the policies it seeks."
The 63-page report, "Wall Street Money in Washington," draws on a special data set compiled by the Center for Responsive Politics for AFR in order to provide a more precise look at financial services industry spending. The set excludes spending by health insurers, who work to influence a different group of issues than, for example, banks. As the data does not include "dark money" that goes mostly unreported, the actual sums of Wall Street spending are surely much higher.
Campaign Contributions. Individuals and entities associated with the financial sector reported making $921,790,861 in contributions to federal candidates for office during this election cycle (2017-18 for House candidates and 2013-2018 for Senate candidates) through December 31, 2018 (as reported by February 12, 2019).[1] The financial sector's contributions were significantly greater than those of any other specific business sector identified in the Center for Responsive Politics data. Of the $519,619,263 in party-coded contributions by individuals and PACs associated with finance, 53% went to Republicans and 47% went to Democrats. (About $402,171,598 additional cash flowed from financial sector contributors to candidates through outside groups.)
Lobbying. The financial industry reported spending a total of $956,890,939 on lobbying in calendar years 2017 and 2018.[2] This puts the sector in third place, behind the "Health" sector, which spent $1,115,361,895 and "Miscellaneous Business" companies and trade associations, which spent $1,021,250,345. The Miscellaneous Business category includes some groups, such as the US Chamber of Commerce ($189,356,496 total expenditures), that also do a significant amount of lobbying on financial issues. In calendar year 2017, there were 2,211 registered lobbyists working for the financial sector and in calendar year 2018, there were 2,177.
The House of Representatives
Historical patterns of Wall Street giving to the Republican House leadership continued in 2017-18. Former Speaker Paul Ryan (R-WI) was a big recipient, as was Rep. Kevin McCarthy (R-CA), now the minority leader in the House. Rep. Patrick McHenry (R-NC), now the ranking member on the House Financial Services Committee, benefited immensely from Wall Street largesse as well.
The diverse and progressive freshman class in the House includes a set of members who are trying to avoid the trap of big-money politics that this report outlines. First-term Democratic members show substantially less reliance on money from Wall Street than Democratic incumbents who won re-election, and far less than Republicans. A recent report that AFR co-authored on small-dollar contributions found that 17 percent of money to their campaign committees came from small donors as compared to 9.4 percent for other members. About 50 members pledged, around the time of the 2018 election, not to take money from corporate PACs.
The U.S. Senate
Beneath the topline numbers, the data in the report underscore how money flowed from Wall Street to members of Congress in service of specific legislative goals. Overall, industry spending for which party information is available modestly favored Republicans. But the industry made contributions to buttress its strategy for passage of S. 2155, the most significant rollback of financial regulation since passage of the Dodd-Frank law of 2010. The strategy involved getting support from a set of Democrats who would join all Republicans to get past the 60-vote filibuster threshold. Wall Street gave heavily to the set of Democratic senators who supported the bill and were up for reelection in 2018, mostly from states that Trump won in 2016.
Harvesting this money from the financial industry did not, however, prove to be decisive for re-election. Some recipients, like Jon Tester (D-MT), won their bids; others, including Joe Donnelly (D-IN), Heidi Heitkamp (D-ND) and Claire McCaskill (D-MO) did not. Kyrsten Sinema (D-AZ) captured a Senate seat after supporting the legislation in the House. And not all top Senate recipients of Wall Street money did the industry's bidding. Sen. Sherrod Brown (D-OH) opposed S. 2155 and other bank-friendly measures as the ranking member of the Senate Banking Committee. He became the only Democrat in Ohio to win statewide office in 2018.
Big Spenders
The groups associated with Wall Street that spent the most on American politics in 2017-18 was, as in previous years, a mixture of companies, trade groups, and individual companies, some closely associated with well-known, wealthy individuals. The 20 companies and trade associations in the financial sector with the highest level of combined spending on lobbying and contributions (from their PACs and employees) were:
National Association of Realtors (NAR) — $144,716,676
Bloomberg LP — $96,481,469
American Bankers Association (ABA) — $25,769,494
Paloma Partners — $25,575,800
Citadel LLC — $20,596,381
Blackstone Group — $18,551,594
Soros Fund Management — $18,430,507
Euclidean Capital — $16,418,900
Renaissance Technologies — $16,274,122
Prudential Financial — $15,454,408
Securities Industry & Financial Market Association (SIFMA) — $15,400,412
Credit Union National Association (CUNA) — $12,983,506
Citigroup Inc — $12,280,155
Property Casualty Insurers Association (PCI) — $11,964,915
Investment Company Institute (ICI) — $11,903,162
Independent Community Bankers of America (ICBA) — $11,644,426
Goldman Sachs — $11,237,071
New York Life Insurance — $11,169,176
USAA — $10,907,945
Wells Fargo — $10,571,054
###
[1] Contributions from the larger FIRE (Finance, Insurance, Real Estate) industry sector in 2017-18 (but only 2017-18 for Senate candidates) were $888,175,142 (as reported February 1, 2019).
[2] During the same period, the larger FIRE industry sector spent $1,056,019,244 on lobbying (as reported by February 1, 2019).