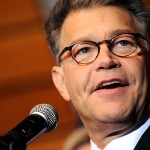 Thirty years ago, forced arbitration was a rarity in the world of consumer finance. Today it's  ubiquitous, and with the Supreme Court's approval, businesses are routinely adding class-action bans to their arbitration clauses. Thus, consumers are barred not only from going to court, but from banding together to pursue common claims. Since that is often the only practical form of legal action for consumers with small-dollar losses, it effectively leaves them without any recourse, while letting companies completely off the hook.
Forced arbitration and class-action bans are especially egregious in financial services. Buried in the fine print of contracts for credit cards, payday loans, student loans, and checking accounts are terms that compel consumers to resolve disputes in secret arbitration, with the companies writing the rules.
WELCOMING VIDEO: Senator Al Franken:
[hana-flv-player
video="wp-content/uploads/2012/10/091912_FRANKEN_5_WEB_HD.flv"
width="400″
height="320″
description="Sarah is having fun in a merry-go-round"
clickurl="http://www.ourfinancialsecurity.org/"
clicktarget="_blank"
player="4″
autoplay="false"
loop="false"
autorewind="true"
splashimage=""
/]
"Keeping the courthouse door open to consumers keeps big corporations honest."
OPENING REMARKS: Lisa Donner, Executive Director, Americans for Financial Reform: "AFR is a big coalition, and our members have different priorities when it comes to consumers and the financial marketplace… But the problems created by mandatory binding arbitration are important to all of us, because for consumer protection laws to work, they have to be enforceable.  Consumers have to have access to the courts, and they have to be able to win redress when they are hurt by predatory financial products…"
FIRST PANEL: Former Georgia Governor Roy E. Barnes and John R. Bevis, Barnes Law Group; Paul Bland, Senior Attorney, Public Justice and Of Counsel, Chavez & Gertler; and Justin Kuehn, student-loan borrower and attorney, Bragar Eagel & Squire. Moderator: Christine Hines, Consumer and Civil Justice Counsel, Public Citizen.
Mandatory arbitration has spread rapidly across the South, partially due to weak state consumer protection laws, said Barnes, whose Atlanta law practice has represented plaintiffs in cases involving payday loans, auto title loans, and other small-dollar loans. Defenders of arbitration portray it as a cost-saving way for consumers to get a fair hearing; but the hearing is inherently unfair, according to Barnes, because arbitrators know they won't be re-hired if they show too much sympathy for consumers. In one of his own cases, the arbitrator initially approved the idea of a class-action complaint, deeming the arbitration clause unconscionable. But after the lender responded with a letter of complaint to the arbitration company, Barnes said, the arbitrator reversed his decision.
Mandatory arbitration, according to Paul Bland of Public Justice and the firm of Chavez & Gertler, can be a license to "cheat a whole lot of people in little ways that they probably won't notice." Bland cited the example of a credit-card company that hits customers with a $75 late fee when a payment arrives after 8 a.m. on the due date. Even if the company generates tens of millions of dollars in revenue that way, Bland said, a mandatory arbitration clause means that a lawyer seeking redress must represent a "stack of individuals" one at a time – and plead each case before an arbitrator chosen by the credit-card issuer.
Justin Kuehn, an attorney carrying a heavy burden of student-loan debt, shared a story that began with seeming good news: his monthly payment was being reduced by $300. After many inquiries, Kuehn discovered that the lender had applied a large pre-payment to interest rather than principal; over the life of his loan, it turned out, Kuehn would be making an additional $71,000 in payments. Kuehn, too, discovered that he had surrendered his right to go to court; his efforts to straighten the matter out have now gone on since January 2012.
SECOND PANEL: Christine Hines, Consumer and Civil Justice Counsel, Public Citizen; Cora Hume, manager of the Pew Charitable Trusts' Safe Checking in the Electronic Age Project; Deepak Gupta, Founder, Gupta Beck PLLC. Moderator: Ellen Taverna, Senior Legislative Associate, National Association of Consumer Advocates (NACA).
The concept of mandatory arbitration first arose in agreements between business entities such as shipping lines and shippers. Down to the recent past, the states had wide latitude to restrict the use of the practice in disputes between businesses and consumers.
That changed with the Supreme Court's expansive reading of the Federal Arbitration Act. First, the Court decided that this "dusty" 1924 statute, as Deepak Gupta described it, gave businesses the right to insert forced arbitration clauses into consumer contracts. Then, in a 2011 case, AT&T Mobility v. Concepcion, the Court went further, permitting businesses to make class action bans part of the package. In Concepcion, according to Gupta (who argued the case), the Court "wiped away" a host of state laws that limited the ability of the strong to enforce harmful terms against the relatively weak.
Paul Bland recalled a case involving a deceptive rebate program offered by American Express. A federal appeals court acknowledged that arbitration had proved to be an "illusory remedy," Bland said. Nevertheless, the court concluded that, in light of Concepcion, it had no choice but to enforce the arbitration clause and dismiss the case.
Despite the passage of the Servicemembers Civil Relief Act of 2008 and the Military Lending Act of 2009, members of the military continue to be forced into arbitration in some situations. Their protections are "limited and have been thwarted" by forced arbitration, Christine Hines said.
As directed by the Dodd-Frank Act, the Consumer Financial Protection Bureau has begun a study of mandatory arbitration in the world of consumer financial products. The law authorizes, but does not require, the CFPB to "prohibit or impose conditions or limitations on the use of" such agreements "if the Bureau finds that such a prohibition or imposition of conditions or limitations is in the public interest and for the protection of consumers."
A bill introduced by Senator Franken – the Arbitration Fairness Act – would effectively overturn the Concepcion decision and restore consumer choice, making pre-dispute forced arbitration in consumer contracts agreements unenforceable in cases involving consumer or workplace rights.
Cora Hume of the Pew Charitable Trusts gave a presentation on a soon-to-be-released Pew study of the use of mandatory arbitration in checking account agreements. Out of 92 agreements in the study, nearly half contained arbitration clauses, and class actions were prohibited by 75 percent of them. The biggest banks, Hume added, are the ones most likely to use mandatory arbitration.