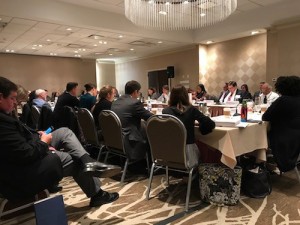 On November 14th, at the Department of Education's negotiated rulemaking on Borrower Defense,  AFR's senior policy analyst Alexis Goldstein gave public comment about the fraud experienced by students at for-profit colleges and the need for the Department to clear backlog of pending discharges.
Here are her comments, as delivered:
###
I'm Alexis Goldstein. I work at Americans for Financial Reform. We're a coalition of over 200 faith groups, consumer groups, consumer advocacy organizations that work for a safer and fairer economy.
I was here for the last negotiated rulemaking on borrower defense. Quite frankly, I am astonished that we are doing this again. I'm hearing a lot of the same arguments. I'm hearing people re-litigating a lot of the same points. This whole exercise strikes me as an extraordinary waste of time and money. But all that being said, we are where we are.
I wanted to bring the voices of some students to this room. I've heard a lot of martyrdom today. I've heard a lot of victimhood from the representatives of for-profit colleges and other institutions around this table today talking about these poor schools and how we're trying to do so many horrible things to these poor schools, and we can't box them all in. And I'm hearing a lot of suggestions to create this process by which students have to go up against their institution before they can bring a grievance.
I want to read some quotes from some of these students, from a Senate report that was just released today from the offices of Senators Dick Durbin and Elizabeth Warren. These are some students who couldn't come today. Last negotiated rulemaking, a lot of students that I had talked to had some hope that the Department of Education was actually going to discharge their debt. We know now that there's 95,000 students who are still waiting for relief. This current administration has discharged none of their debts. There's thousands of applications who haven't been approved. The Department is sitting on them. You all are talking here in this negotiated rulemaking about potentially doing partial relief instead of full relief. These are people whose lives have been ruined, and I want to bring some of their voices to you today.
Ami Schneider went to the Illinois Institute of Art, an EDMC school. She writes "The school defrauded me plain and simple." And: "In class, we did not learn the skills we were supposed to be learning…"
The report goes on: "Despite being on the Dean's list and graduating with honors, Ami found it nearly impossible to find a job upon graduation: "Employers don't see it as a reputable institution…If it is on my resume, it looks bad or they don't care. The degree has never opened any gainful employment."
Ami is now saddled with debt: "[Illinois Institute of Art] convinced my mom that I would get grants… Grants and scholarships barely did anything. $76,000 was the tuition they quoted. Ended up with loans over $100,000… they just took us out of classes and had us sign things…"[M]y loans ran out. They had [my mom] come in and write a check for $5,000."
Again, the report informs us that "Since graduating, Ami recalled being harassed by Navient about her student loans: 'they would robocall me all hours of the day, sometimes 20 times a day. They called my grandparents in Florida. They had nothing to do with my loans.'"
Ami's financial struggles have caused significant distress in her relationships, fighting with her mother about finances. She writes "I thought maybe I am better off dead."
Another student in the report is Heather Beckstead, who attended the Art Institute of Phoenix (EDMC) . She has $67,000 in federal loans and $21,000 in private loans.
She writes: "I was defrauded. I was lied to. I was promised something I didn't get. My government should care about that. I want to feel that my government has my interests in mind but it does not feel that way now."
The Art Institute did not provide students the resources necessary to succeed: "There were not enough tools to be successful. I would show up to class and there would not be enough computers. I went a whole semester fighting for a seat at a computer…All the tools were old, outdated, or broken and they did not make any attempts to fix them. Some teachers had work experience in the field but their knowledge was very limited, not as qualified as we were led to believe. A lot of the time students taught the class or we watched tutorial videos on YouTube."
Finally, there is Nino, from California, who attended ITT Technical Institute.
He writes: "The whole [education] was basically a scam, it ruined my life and I wasted two years and a half of my life. They didn't even say that I will be in debt after graduation. At the beginning they told me not to worry about having a loan because I was eligible for the highest financial aid." (His total loan debt is $29,000).
Nino attended ITT Tech because he "wanted to pursue a Bachelor's or Master's [degree]" in computer network systems. Upon graduating, the institution "guaranteed" he would have a job, "won't be in debt," and that "the credits transfer to most universities." However, his experience did not match these basic expectations.
These are three students. There are tens of thousands of students with stories like that.  I know a lot of them who have been waiting for their debt cancellation for over a year, sometimes two years. They're waiting for this Department to act. This Department has not acted. We now know that there are 95,000 applications that are just sitting there in limbo. These are people whose lives are ruined, whose credit is ruined, who cannot move on, who cannot take out other lines of credit because they have exhausted it, and if I seem exasperated, it's because I am exasperated because these are my friends. These are my colleagues. They are not people just trying to scam you. They are not trying to pull one over on you. They are people who tried to better themselves, improve the life for their family, and they can't because they're stuck.
And they're stuck in debt that this Department has the power, has always had the power to discharge the debts of, and you sit and you wait and it is frozen. And I am, I am so frustrated with this process. I understand we have a negotiated rulemaking to do. We will do it. We will continue to do it. I appreciate everyone's perspectives. But peoples' lives are on hold, and this Department has the opportunity to stop having their lives on hold and give them full relief, not partial relief. And I beg you to do so.
These are people who just wanted to make a life better for themselves. We, they believe what we told them. Education is the path to a better life. And that is not their experience. Their experience is that it has made their life worse, and that they wish they never went there, and they take these schools off of their resume. Many of these schools, which are still open, by the way, I am not just talking about ITT and Corinthian. Art Institution is still a functioning institution. There are a lot of other schools out there just like that. So, again, I implore the Department of Education to discharge these debts as soon as possible. These students have waited entirely too long to move on with their lives. Thank you.
###