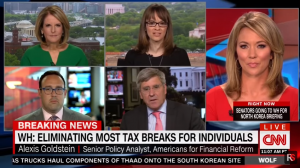 AFR's Senior Policy Analyst Alexis Goldstein appeared on CNN Newsroom with Brooke Baldwin on Wednesday, April 26th to discuss how the Trump Administration's tax plan would benefit Wall Street and leave ordinary American workers behind.
In the segment, Goldstein asked the panel to "look at the optics of this announcement," made by Secretary of the Treasury Steven Mnuchin and White House economic adviser Gary Cohn. "We have two former bankers from Goldman Sachs announcing a tax plan that–from the details that we do know–will dramatically cut taxes for big banks like Goldman Sachs."
Goldstein pointed out that Trump's proposed 15% pass through rate would benefit large banks and corporations over small businesses, as nearly 70 percent of small businesses are already paying a tax rate that are lower than or equal to those proposed by this plan, a point that the Center on Budget and Policy Priorities has written extensively about.
"Small businesses are already able to take advantage of lower tax rates," Goldstein told CNN. "This is a plan that's going to help large corporations. This betrays the promise that Steven Mnuchin made that there would be no absolute tax break for the wealthy."
Goldstein also pointed out the larger context, that this tax outline was announced on the same day as the dangerous Financial CHOICE Act to roll back Dodd-Frank was being debate in a Committee in the House of Representatives. Goldstein told CNN: "Right now, House Republicans are talking about in committee a bill that would tear up the Wall Street reforms from the last crisis. We're talking about slashing taxes for big banks. We're talking about tearing up Dodd-Frank [regulations]. Both of those things are a disaster for the ordinary American worker."
AFR highlighted in a joint policy brief with Americans for Tax Fairness how the six largest banks (Bank of America, Citigroup, Goldman Sachs, JPMorgan, Morgan Stanley and Wells Fargo) would save $12 billion annually under Trump's proposed 15% rate.  In addition, Trump's tax plan would let these banks dodge more than 70% of those taxes—an estimated $25 billion—by slashing the tax rate to 10% for profits held offshore. Hedge fund managers and other wealthy Americans who structure their businesses in a certain way would get $1.5 trillion over 10 years, which very little helping small businesses.
You can watch the complete clip below.