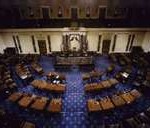 FOR IMMEDIATE RELEASE      
DATE: March 22, 2012 

CONTACT: John Carey at 202-466-1854
john@ourfinancialsecurity.org          
Washington, DC – Americans for Financial Reform, a coalition of more than 250 national and state organizations working together for strong Wall Street reform, issued the following statement today:
AFR Executive Director Lisa Donner:
We are deeply disappointed by the Senate passage of the so called "JOBS Act." With the country still suffering from high unemployment and hard times in the wake of the financial crisis, it is almost unbelievable that the Senate would rush passage of measures that will undermine transparency and accountability in the capital markets, and expose our families to a new round of fraud and abuse.  But that is what they have done.
A large and growing chorus of voices, including current and former regulators, academic experts, public interest advocates, and representatives of labor, seniors, and small business groups have raised the alarm about the harm this legislation will do.  26 Senators stood up for the public interest, and voted against the final bill, but 73 Senators choose to ignore the warnings, and move forward on measures that will make it easier to rip investors off, threaten households hard earned savings, and eliminate standards that help markets function with integrity. Our members will remember this vote.
One public interest amendment, Merkley, Bennet, and Brown (MA), did pass and was included in the bill, and we applaud that effort, but unfortunately it remains embedded in provisions that will harm our economy. And we applaud the efforts of Senators Levin, Landrieu and Reed, and the additional co-sponsors of their proposed amendment, to make much needed changes in the legislation.
###