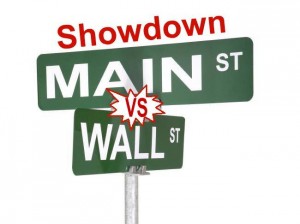 Grassroots activists from around the country visited the Senate on Wednesday, April 28 with a clear message:  it's time to pass financial reform.  Read about their visits here. These activists were part of the huge "Showdown" campaign to hold the banks accountable.  Under the campaign's bright lights, the Senate relented and agreed to take up financial reform.
Heather Booth explains it on the Huffington Post:
Today, along with over 200 coalition partners, Americans for Financial Reform is delivering to the Senate leadership over 125,000 signatures of Americans who demand real reform of Wall Street. Coalition partners in San Francisco and Kansas City brought hundreds to protest against Wells Fargo. Over 2,000 rallied in Chicago and 2,000 in Charlotte at Bank of America. On Thursday, over 10,000 will be on Wall Street. We had 60 Main Street lobbyists — small business owners, clergy, consumers and others — come to Washington to provide their voice to the fight. We have calls going in to Members offices. We are encouraging people to MoveYourMoney from the big banks to community banks.
Read the rest of Heather's post here. And add your voice to the Showdown!
Sign the Petition to Hold Banks Accountable. We'll deliver your name with thousands of others to the Senate.
Find a Financial Reform Event Near You.
Call Your Senators. It's free, easy, and only takes a second!  Your call can have an impact for generations to come.  Call toll-free (866) 544-7573.  Click here for talking points.