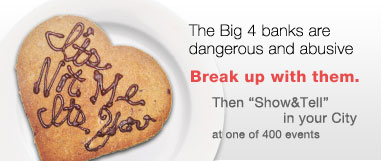 For Valentine's Day, The Public Breaks Up With the Big Banks in a Boycott and Outreach Movement

This Valentine's Day is the perfect time to end your abusive relationship with the big banks that have a stranglehold on our country. They've been lying, gambling, cheating and they seem to think they can just keep getting away with it forever. Now's the time to tell them you want to bank with someone who actually cares about you and whose interest rates don't exceed their actual interest.
That's the message that A New Way Forward, the biggest all-grassroots campaign fighting for structural reform of the financial sector, is pushing out this Valentine's Day. They are developing a boycott and outreach movement. They are asking people to start moving their money away from the big banks with a small deposit at smaller local banks and credit unions and a boycott on big-bank credit cards. Then, they are asking people to help spread the word in a distributed, but coordinated fashion at 400 events around the country.
They have also set up a handy page of tips to make breaking up with your bank dirt simple:
http://www.anewwayforward.org/howtobreakup
"We've been fighting for these big banks to be broken up by Congress. Instead they've been allowed to grow even bigger than they were when they were determined to be too big to fail, and nothing is being done to rein in their worst abusive behaviors," Donny Shaw of A New Way Forward said. "If Congress won't break them up, we, the people, will break up with them."
Along with the call to break up with the big banks, A New Way Forward is calling on people to go to one of 400 events across the country that they have listed on their website to help spread the word about the big banks' abuses. They have a flyer that can be printed out and photo-copied, and they're asking people to distribute it at job fairs and other events.
"Our founding fathers started the great American tradition of preserving the political power of the individual over the dangerous powers of the concentrated," Tiffiniy Cheng of A New Way Forward said. "The big banks are that concentrated power, and are damaging our free market economy and our democracy. People need to start talking — we can't let these big banks continue their quiet crusade against the public interest any longer."
Americans are drowning in $700 billion in credit card debt because of the big banks' dangerous interest rates. Ninety percent of all credit cards are from the four big banks, Bank of America, Chase, Citi and Wells Fargo. They are using their market dominance to charge interest rates that are, on average, 20 points higher than the rates of local bank and credit union cards.
The financial industry has gotten so big that their profits now make up 40% of total GDP. People need to fight back so that there is more money available for industries that create jobs. Otherwise income equality and unemployment will continue to rise.