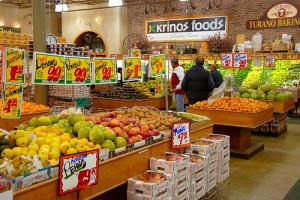 Financial Regulatory Reform Will Provide Small Businesses the More Stable Environment and Predictable Flows of Credit That They Depend On
Small businesses need a stable financial environment and predictable funding so they can thrive.
AFR co-hosted a press conference with Representative Keith Ellison (MN-5) and small business owners who support the CFPA.  Read about it and watch videos here.
Read about how the big banks are working through the Chamber of Commerce to create baseless fear about the CFPA here.
If you are a member of the business community, click here to sign our petition.

The financial crisis shrank credit availability for small businesses and created major uncertainties for them.  The crisis contributed to a recession that exacerbated these problems.  The community banks and credit card companies on which small businesses depend have pulled back.  In April, 33 percent of small-businesses said their credit limit had been reduced during the previous six months, and 75 percent said their credit card terms had worsened overall.
The financial crisis is a result, in large measure, of loopholes and weaknesses in financial regulation.  That is why we need regulatory reform—to close those loopholes and shore up those weaknesses.
The Obama plan will protect the financial system – and all the families and businesses that depend on it – with much stronger regulation of large, leveraged financial institutions so they cannot threaten financial stability again.  The Obama plan will impose rules of the road for the exotic Wall Street products like "credit default swaps" that got out of control and created huge and unmanaged risks.  These exotic products were often tied to mortgages of everyday Americans.  So the Obama plan will bring better regulation of mortgages and other consumer financial products.  A dedicated consumer financial products agency is critical to that effort.
Together, the Administration's proposals are designed to make our system more stable and safer for those in the real economy that depend on the flow of credit.  These outcomes will help small businesses raise capital, reach consumers, expand in new markets, and generate greater returns.
Clear Rules of the Road and Effective Enforcement for Consumer Financial Products Require a Dedicated Agency
Financial stability depends in critical part on clear rules of the road for consumer financial products.  Misleading mortgage products led responsible homeowners to get with deceptively low initial payments that soon increased beyond their ability to pay.    Misleading credit card practices just compounded the problem.
The regulatory system failed to provide clear rules of the road, or enforce them, for the consumer financial services market.  Authority is deeply fragmented across many federal agencies, causing inertia and finger-pointing in place of action.  None of them has a primary mission of providing these rules or enforcing them.  So no one could be held accountable for doing the job right.
The Administration proposes to consolidate fragmented federal authority in an agency with a mission to provide the consumer financial services market with clear rules of the road and enforce them fairly and consistently.
A dedicated agency will ensure the accountability and effectiveness that have been missing.
Small Businesses that Use Consumer Financial Products Will Benefit from a Fairer and More Transparent Market with Better Access to Sustainable Products
The NFIB and NSBA both stood with the Administration and Congressional leaders to pass credit card reform – ending the practice of retroactive rate hikes and stopping credit card companies from changing terms without notice.  Why?  Because these associations know that the smallest businesses often use consumer credit cards when they are starting out, and these businesses need fair and transparent financing as much as the next person.
The CFPA is the logical follow-up to the credit card reform act.  We need an agency with the mission to keep the Act up to date with sensible rules and enforce it effectively.  That agency does not exist today.  Instead, authority for rules and enforcement is split up over many agencies.  Which means that, when problems arise, the agencies point fingers at each other instead of acting.  That's why Congress had to intercede. The only way to solve that problem is to consolidate authority in one agency with a dedicated mission and clear accountability.
Owners of small businesses also sometimes tap their consumer home equity lines of credit (HELOCs).  Banks are pulling way back on consumer HELOCs. There are laws that limit banks' ability to do that.  The CFPA will enforce those laws and keep them up to date.
Clear rules of the road require good judgments to keep credit responsible and sustainable. The current regulatory system can't make those judgments.  It allowed irresponsible credit practices to spread, and these practices were not sustainable — mortgage and credit card lending has shrunk.  The CFPA will have a mission not just to make disclosure effective and stop abuses; it will also have a co-equal mission to sustain growth and innovation in consumer financial products.
Reform Will Benefit Community Banks
There are more than 8,000 banks in the U.S. – most are local banks whose businesses are based on relationships and lending to small businesses within local communities.
The Obama plan will reform secondary markets and help keep the financial system stable so that small banks have access to funding to make sound loans.
The Obama plan will substantially reduce the funding advantage that the biggest financial institutions have enjoyed because markets have perceived them as "too big to fail."  That will also help give community banks the level playing field they deserve.
The Obama plan closes loopholes that community banks' competitors have exploited.  For the first time, the federal government will enforce clear and consistent rules on the payday lenders, finance companies, and mortgage brokers that compete with community banks.
Small Businesses that are Not Financial Will Not be Regulated by the CFPA
Small businesses that do not offer consumer financial products or services will not be regulated by the CFPA.
The CFPA will not have authority to regulate small business financing.  It will only have authority to set rules for consumer financial products and services.
~  Q&A And Response to Common Criticisms ~

Will the CFPA reduce small business's access to credit and slow growth and job creation?
It is precisely the absence of reform – loopholes and weak regulation – that led to this crisis.  Reform is necessary to make the system stable and keep credit flowing in the economy.
A stable system with freer and safer credit will lead to more jobs and more economic growth.
Will the CFPA take a one-size-fits all approach to consumer protection that ignores the fact that small businesses use financial products in different ways than the average consumer?
Many small businesses use consumer products.  All users of these products will benefit from clear rules and strong enforcement.  The NFIB and NASB both supported the President's credit card bill this spring for this very reason.
The CFPA will also enforce rules on HELOCs, which are a source of credit for small businesses — protecting them from unfair withdrawal of these credit lines.
Is the CFPA going to create additional regulation that will hurt community banks?
The CFPA will enforce existing laws and consolidate regulations from 7 different agencies; it will regulate non-bank lenders for the first time, which will help community banks.
The CFPA will use smarter regulation, not more regulation.  It will require one federal mortgage disclosure, instead of the two separate and inconsistent disclosures we have today.  It will shorten and simplify disclosures and test them with real consumers to ensure they are understandable.
The CFPA will deploy its resources based on risks to consumers.  Community banks that follow the rules will not experience additional regulation or hassle.  Their riskier competitors will get proportionally more attention from the agency.
Is the CFPA an example of the expansion of government that will interfere with small businesses?
No, there is no change in coverage from current law.  Small businesses that are not financial will not be subject to any additional requirements under this proposal.  The laws that apply to small business financing will not change.
Instead of expanding the size of government, the CFPA will make government more effective.  It will focus narrowly on the key roles that government must provide: set rules and enforce them.
As a small business, will I have to fill out more paperwork?
No, there is no change in coverage from current law.  Small businesses that are not financial will not face any additional regulation or reporting requirements under the CFPA.
Will my fees increase as a small financial services company?
Community banks with less than $10 billion in assets won't pay anymore than they do today, and many will pay less.
The CFPA will take a risk-based approach to the whole market so that community banks and responsible lenders that follow the rules will receive less attention.  The CFPA will coordinate with state regulators to make regulation smarter and more effective, rather than duplicating efforts.
Since I'm used to working with my existing regulator, will I have to get used to an entirely different set of people and regulations?  What additional regulatory costs will I face?
Many regulations will remain the same, and so will many of the regulators.  They will simply all be centralized in one agency that focuses on consumer protection as its top priority.
By streamlining the consumer protection functions of 7 different agencies into one place, the CFPA would be able to would simplify compliance for community banks and other mortgage lenders, while improving protections for consumers.
And because the CFPA will have a mandate to allocate more of its supervisory resources to institutions that pose more risks to consumers, there will be proportionally less burdensome consumer oversight of well run community banks.and smaller financial firms.
Will the creation of the CFPA create additional regulation on top of the credit card reform passed earlier this year? Will it create further burdens on businesses who use their credit cards as working lines of credit but are seeing this credit dry up?
The legislation creating the CFPA does not create any additional credit card reforms on top of the legislation passed in May with the support of the NFIB and NSBA.
The most important thing we can do to protect access to credit is to reform the financial system
What about Venture Capital firms?
The latest discussion draft in the House Financial Services Committee adjusts the requirements for venture capital firms.
I agree with you that venture capital plays a critical role in job creation and innovation in this country.
Moreover, the aim of regulatory reform is to restore trust and stability to the financial system, precisely so that capital and credit can flow to small businesses, start ups, and families who need it.
The Administration is working with Congress to make sure that risks in the system cannot migrate to unregulated and unmonitored areas of the financial system.
(Photo:  B-P F)