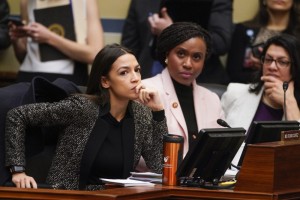 FOR IMMEDIATE RELEASE
Apr 11, 2019
CONTACT:
Carter Dougherty, (202) 251-6700, carter@ourfinancialsecurity.org
House Women Take On Wall Street CEOs Over Inequality And Discrimination
WASHINGTON, D.C.— The women of the House Financial Services Committee challenged the CEOs of Wall Street's biggest banks in a testy hearing yesterday that produced viral videos and riveting television. (See links to videos below.)
From Chairwoman Maxine Waters (D-CA) to frosh Reps. Ayanna Pressley (D-MA) and Katie Porter (D-CA), the House women pushed powerful CEOs to acknowledge their failures to adequately address lending discrimination, income inequality, and consumer abuse.
Pressley cited studies showing Black women were 256 percent more likely than White men to receive subprime mortgages from the big banks in the run-up to the financial crisis. Waters elicited admissions that simplifying their complex banks has improved management. Porter demonstrated to JPMorgan Chase CEO Jamie Dimon that a single mother could not possibly make ends meet while working a starting job at his own bank.
Meanwhile, Rep. Madeleine Dean (D-PA) got Bank of America CEO Brian Moynihan to admit that he's never even sat through one of his own bank's excruciating mortgage modification process. Rep. Nydia Velazquez (D-NY) called out Citigroup CEO Michael Corbat for earning $486 for every $1 his median employee earns.
Lisa Donner, executive director of Americans for Financial Reform: "Big banks have lobbied for and won massive tax breaks and increased deregulation at a time when they are already making record profits. Ordinary Americans are getting a  less safe financial system, and one that is an ever-more-powerful driver of inequality and economic vulnerability. Wall Street CEOs need to be held accountable for abuses by the institutions they run, and the dangerous policies they are pushing, both openly and quietly."
Alexis Goldstein, senior policy analyst of Americans for Financial Reform: "From forcing banks to consider how they may have benefited from the legacy of slavery, to showing the inability of a CEO that makes $31 million a year to find a way for a single mom to make ends meet on a starting salary from Chase, to pointing out how their charitable giving dwarfs the fines they pay, members of this committee are leading the way in exposing Wall Street malfeasance. To quote Chair Maxine Waters, 'it's a new day and it's a new way' at her committee."
###