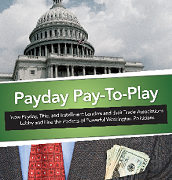 A new report from Americans for Financial Reform finds that payday, car title and installment lenders have spent more than $13 million in campaign contributions and lobbying during the 2014 election cycle. The Online Lenders Alliance (OLA) and Community Financial Services Association (CFSA) led the way, with combined contributions of more than $3 million, according to the report, which also lists the top 50 congressional recipients of contributions from the payday lending industry.
View or download the full report: Payday Pay-to-Play: How Payday, Car-title and Installment Lenders and their Trade Associations Lobby and Line the Pockets of Powerful Washington Politicians."
"Payday loans lead to a cascade of consequences, such as increased overdraft fees, delinquency on other bills, forced bank account closures, and even bankruptcy," said Gynnie Robnett, campaign director at Americans for Financial Reform. "Yet the lenders show here they have no problem using the money the make off the backs of cash-strapped consumers to curry favor in Washington, DC.  This underlines exactly why we need strong federal guidelines to end this cycle of debt with sky high interest rates and fees."
The Consumer Financial Protection Bureau (CFPB) is currently drafting new guidelines for payday lending that could protect vulnerable borrowers from the debt trap. Many payday loans carry annual interest rates between 300 and 500 percent and the typical borrower is indebted for more than 200 days per year when their initial loan was only one pay period.
"We are in an exciting moment. The Consumer Financial Protection Bureau is poised to take action to regulate payday and other quick fix consumer loans," added Robnett. "But this report lays out one threat to those rules: payday lenders will be working to undermine them and the CFPB, and they have a $13 Million tab open in Congress."