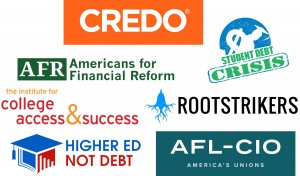 FOR IMMEDIATE RELEASE:
May 10, 2017
Contact:
Carter Dougherty
Communications Director, Americans for Financial Reform
carter@ourfinancialsecurity.org / 202-251-6700
Today, a coalition of organizations representing workers, students, consumers, and borrowers delivered a petition with over 400,000 signatures calling on Congress to defend the crucial work of the Consumer Financial Protection Bureau.
Americans for Financial Reform, CREDO Action, Student Debt Crisis, the Institute for College Access and Success, Rootstrikers, the AFL-CIO, and Higher Ed Not Debt delivered the 404,990 petitions to the offices of Senate Banking Chairman Senator Crapo and Ranking Member Senator Sherrod Brown, and to the offices of House Financial Services Committee Chairman Jeb Hensarling and Ranking Member Maxine Waters.
Since the Consumer Bureau opened its doors in 2011, it has successfully resolved more than 100 cases and secured $11.8 billion in relief for more than 29 million Americans. Despite this crucial work, the agency is under attack by big banks and their allies in Congress. Their efforts could imperil its ability to protect the public from Wall Street abuses and predatory lenders. With this petition, hundreds of thousands of Americans have made clear they support the work the CFPB does to defend consumers from financial scams.
Natalia Abrams, executive director of Student Debt Crisis said, "For too long, student loan borrowers have been forced to live in shame and isolation. It is with the help of the CFPB that Student Debt Crisis is able to direct borrowers as well as future borrowers to a reputable department that we know has their backs, rather than be forced to live in the shadows with insurmountable debt and nowhere to turn. Without the good work of the petitioners here and the CFPB, our goal of helping borrowers and vying for substantive policy changes that will support them would be much harder to achieve."
"Sen. Elizabeth Warren's Consumer Financial Protection Bureau is one of the best tools the federal government has for protecting the American people from unscrupulous debt collectors, for-profit colleges and Wall Street banks," said CREDO Political Director Murshed Zaheed. "That's why it's no surprise that Republicans want to gut it," Zaheed continued, adding, "Senate Democrats must stand strong and mount a fierce and unanimous resistance to protect the agency that protects all of us."
"The CFPB has returned billions of dollars of ill gotten gains to the American public and has effectively protected the country from the threat of another financial crisis," said Damon Silvers, Director of Policy and Special Counsel at the AFL-CIO. "It is a real example of government at its best."
"Wall Street banks and predatory lenders – and their allies in Congress – are attacking the Consumer Financial Protection Bureau precisely because it does its job," said Lisa Donner, Executive Director of Americans for Financial Reform. "The CFPB is making it harder for unscrupulous financial companies to rip people off, and forcing them to pay people back when they do. Congress should be applauding the CFPB's work, not trying to stop it."
"The Consumer Financial Protection Bureau has stood up time and time again for student loan borrowers but now it is under attack. We hope that these voices are heard loud and clear by our leaders in Congress: student loan borrowers intend to hold you accountable for defending the CFPB," said Lauren Asher, President of the Institute for College Access & Success.
"Before the Consumer Financial Protection Bureau, Americans ripped off by Wall Street had little recourse if they couldn't afford high-priced lawyers," said Carli Stevenson, Campaigner at Demand Progress's Rootstrikers project. "The CFPB has returned $12 billion to Americans cheated by financial firms and saved many families from financial ruin. Congress should abandon the insincere "fixes" to this successful watchdog and leave the CFPB alone to do its work."
Hundreds of organizations have previously signed on to letters opposing changes to the Bureau. At the end of 2015, 88 organizations sent a joint letter urging the leaders of Appropriations Committees to oppose any proposals that would change the leadership structure of the Bureau into a Commission. 340 organizations sent a letter to Congress in March 2015, documenting the CFPB's effectiveness and urging that its structure be maintained.
A compilation of the individual petitions can be found below: