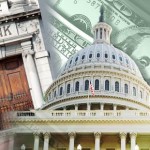 In a new report, Americans for Financial Reform looks at what the 113th Congress did in 2013-2014 to advance or impede the cause of stronger regulation of the financial industry.
AFR's report, Where They Stand on Financial Reform (view or download PDF here), tracks a series of relevant House and Senate actions, briefly explaining what each was about and recording the votes of the Senators and House members involved.
The report highlights the contrast between a united electorate and a divided Congress when it comes to regulating the financial industry. Surveys show high levels of voter support for tougher rules; nevertheless, apart from the Senate's confirmation of two notable regulatory officials, most of last year's congressional votes on such matters were over efforts to reverse or water down reforms already enacted into law. And while some legislators resisted those efforts and continued to press for more industry accountability, many others – particularly in the House – threw their weight behind a series of proposals to weaken existing rules or to undermine the agencies charged with implementing them.