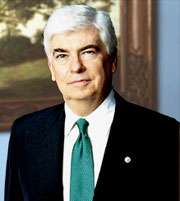 AFR Statement on Committee Passage Of Financial Reform Bill
Washington, DC – Americans for Financial Reform, a coalition of over 200 groups, released the following statement today on Chairman Dodd's financial reform legislation:
Heather Booth, Executive Director, Americans for Financial Reform: "We applaud Chairman Dodd for very swiftly moving this legislation through committee and to the floor. It has been well over a year since the Big Banks took our economy over a cliff and it is well past time for a comprehensive financial reform package to ensure that it does not happen again.
"While we appreciate Chairman Dodd, and the Committee's work, we remain concerned about aspects of the bill and believe that it must be strengthened before it is voted on by the full Senate.
"Many of the concerns we laid out when Chairman Dodd first introduced the bill remain unfixed as the legislation moves to the floor. At the top of that list is our concern about the independence of the Consumer Financial Protection Agency. A strong and independent Consumer Financial Protection Agency must be the cornerstone of any meaningful reform. We believe the best way to structure a strong and independent Consumer Financial Protection Agency is through a stand alone agency, and we are troubled by the provisions that allow Consumer Financial Protection Agency decisions to be appealed to a council dominated by institutions that failed consumers in the past, and by holes in its enforcement authority.  In addition, derivatives, and other elements of the shadow markets—including hedge funds and private equity—must be clearly and effectively regulated, without exceptions or loopholes that undermine these rules, and we must put real measures in place to take on the menace of 'too big to fail' banks playing 'heads they win, tails we lose' games with our economy.
"The Big Banks, and their army of lobbyists, are out in full force to weaken and defeat meaningful legislation. While we would have relished the opportunity to expose their allies on the Committee, through the endless amendment process that was planned, we welcome the fight on the floor of the Senate.
"The American public, who have been forced to pay the bill for Wall Street's party, have waited long enough for meaningful reform. We thank Chairman Dodd for moving this bill to the floor and hope the Senate will take up this legislation soon after the recess. "