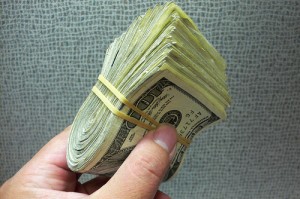 A working paper from the IMF titled "A Fistful of Dollars: Lobbying and the
Financial Crisis" (PDF) shows a connection between lobbying and high-risk lending.  The Guardian UK discusses the article and its possible impact:
Powerful American banks spending lavishly on lobbying are more likely to engage in high-risk lending and their shares have performed less well than others, a groundbreaking study by the International Monetary Fund has found.
The in-depth research will prompt calls for a wholesale clean-up of Capitol Hill by the Obama administration. Lobbying by the finance, insurance and real estate (Fire) sector outstrips any other in the US economy.
The study, entitled A Fistful of Dollars: Lobbying and the Financial Crisis, published by the IMF, reveals a stark correlation between lobbying by lenders and high loan-to-income loans.
The paper, written by a trio of high-profile IMF economists, established that firms who spend more on buying access to politicians are more likely to engage in risky securitisation of their loan books, have faster-growing mortgage loan portfolios as well as poorer share performance and larger loan defaults.
The landmark paper will increase pressure on US politicians to regulate the mortgage industry, which Washington insiders say has so far been immune from meaningful financial reform in the aftermath of the bank crisis.
Highlighting 33 pieces of federal legislation that would have tamed predatory lending or introduced more responsible banking but were the target of intense lobbying, the IMF found that the efforts by banks to resist the legislation overwhelmingly succeeded.
(Photo: RefractedMoments)