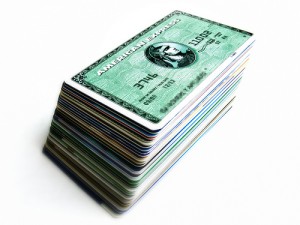 Have you ever waded through pages and pages of credit card contracts in an attempt to figure out what your interest rate will be? Have you overdrawn your account by a few cents, only to get slammed with a disproportionate fee? Would you be upset if you purchased holiday gifts only to find your credit limit slashed and your interest rates dramatically increased?
Tomorrow night, tune in to Frontline on your local PBS channel to see "The Card Game," and learn more about the sneaky ways that credit card companies and banks are taking advantage of consumers and preventing reform. According to Frontline, consumers use plastic for more than 100,000 purchases a minute; at that rate, we deserve to know that we're going to be protected from tricks and traps, but this show will illustrate just how far we are from that goal.
This show is in collaboration with a New York Times series with the same title which has been covering consumer financial issues over the last few months. Tomorrow's show provides another way to absorb the massive amount of information out there regarding the need for financial reform. You can watch a preview of the show below.
(Photo: Andres Reuda)