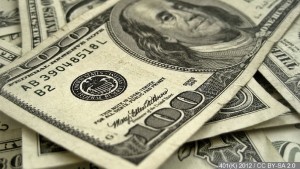 During the current election cycle, Wall Street banks and financial interests have already reported spending more than $1.4 billion to influence decision-making in Washington, according to a new report released today by Americans for Financial Reform. That total (based on data reported between January 1, 2015 and September 20, 2016) works out to more than $2.3 million a day. More than 350 financial sector companies or trade associations spent at least $500,000 each during this period.
Since 2008, financial industry spending has increased to levels even higher than they were before the financial crisis, and the spending in the current cycle is on track to be the highest yet. This continued high level of spending reflects the ongoing battle to reshape the financial system and the industry's persistent efforts to repeal or win exemptions from parts of the Dodd Frank financial reform law, to weaken implementing regulations, and to forestall further proposals for change.
"Wall Street Money in Washington," a 44-page examination of various forms of political spending, draws on data compiled by the Center for Responsive Politics (CRP), including data produced specifically for AFR in order to provide a more precise look at financial industry spending than has been possible in the past.
The AFR Advocacy Fund released a related report – "Where They Stand on Financial Reform," yesterday.  It lays out how members of Congress voted on a set of important measures related to oversight of banks and the financial system.
Highlights of the Wall Street spending report include:
Campaign Contributions. Individuals and entities associated with the financial sector reported making $798,137,857 in contributions to federal candidates for office during the current election cycle (2015-16 for House candidates and Presidential candidates; 2011-2016 for Senators) through September 20, 2016. The financial sector's contributions were more than twice that of any other specific business sector identified in the Center for Responsive Politics data. Of the $468,256,990 in party-coded contributions by PACs and individuals associated with finance, 61% went to Republicans and 39% went to Democrats.
Lobbying. The financial industry reported spending $667,171,847 on lobbying in 2015 and 2016 through the second quarter. This puts the sector in third place, behind a category of "Miscellaneous Business" companies and trade associations, which spent $779,514,421, and Health, which spent $775,763,622. The miscellaneous business category includes groups, such as the US Chamber of Commerce ($160,550,332 total expenditures), that also do a significant amount of lobbying on financial issues.
Big Spenders.  Hedge funds and private investment funds were prominent among the entities with the highest level of combined spending on lobbying and contributions (from their PACs and employees). The top 20 spenders were:
National Association of Realtors (NAR) – $66,300,058
Renaissance Technologies – $38,247,100
Elliott Management – $20,682,777
American Bankers Association (ABA) – $20,053,210
Paloma Partners – $19,239,700
Soros Fund Management – $15,319,584
Starr Companies – $15,162,901
Prudential Financial – $14,584,995
Wilks Brothers – $12,559,818
Bloomberg LP – $12,553,348
Pritzker Group – $12,022,347
Wells Fargo – $11,765,933
Stephens Group – $11,753,910
Securities Industry & Financial Market Association (SIFMA) – $11,735,750
Citadel LLC – $11,096,510
MetLife Inc – $10,624,733
New York Life Insurance – $10,385,081
Citigroup Inc – $10,372,051
Goldman Sachs – $9,901,319
Investment Company Institute (ICI) – $9,637,798
The report details the spending by each of 354 financial sector companies and trade associations with at least $500,000 in declared lobbying expenditures and campaign contributions for the current election cycle. It also breaks out the contributions to members of the Senate Banking Committee and House Financial Services Committee, and highlights a set of conspicuously large contributions to members of Congress from a particular financial firm or FIRE industry. In addition, the report includes graphs showing and comparing the amount spent by the financial industry on contributions since 1990 and on lobbying since 2000.