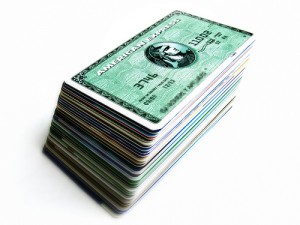 On Monday, February 22, the long-awaited and long-needed changes laid down by the Credit Card Accountability, Responsibility, and Disclosure (CARD) Act went into effect.  When the bill was passed last May, it was the first time meaningful credit card legislation had ever been passed on the federal level.  Previously, some weak disclosure rules were put in place to curtail bad practices, but credit card companies easily found ways around these rules and continued to take advantage of consumers.
The Credit CARD Act allows for a new level of oversight and regulation that will end some of the worst abuses committed by credit card companies.  Click here to read about the way the Credit CARD Act will improve things for consumers.
While the Credit CARD Act represents a great success for consumers and consumer advocates, it fails to regulate the entire industry and leaves consumers vulnerable to other attacks from banks who will try to get around the new protections and evade regulation.  It does nothing to deal with usurious interest rates, over-the-limit fees, and other deceptive interest rate increases.
That's why we need a Consumer Financial Protection Agency (CFPA).  No matter how many regulations Congress passes, the banks will always be trying to find a way around the rules in order to make more money and Congress will never be able to respond quickly enough to completely protect consumers.  We need an agency dedicated entirely to making sure banks aren't selling bad practices and products; we need a CFPA.
U.S. PIRG recently hosted a news conference on the Credit CARD Act and CFPA with Ed Mierzwinski from U.S. PIRG along with Harvard Law Professor Elizabeth Warren and University of Washington student leader Tim Mensing.  Click here to listen to the audio stream of that conference.
For more information about the new regulations, click here or here.

(Photo: Andresreuda)