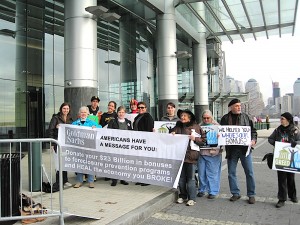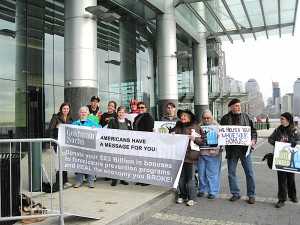 They bring signs, banners, leaflets, and stories of foreclosures and unemployment.  Individually, they're mothers, fathers, retirees, hard workers who are in between jobs.  Together, they're a force to be reckoned with, as local AIG and Goldman Sachs offices recently discovered.
They're the consumers organized by New Jersey Citizen Action, and they're not going to rest until their dream of a fair economy is achieved.  In November 2009, this group came together at two major events in Jersey City where they gathered to scold executives who earned huge bonuses while the state's foreclosure, troubled mortgage, and unemployment rates continued to rise.
These recent events, organized by New Jersey Citizen Action, have been in conjunction with Americans for Financial Reform (AFR), a new national coalition of advocacy and activism groups working to create a fair financial system for all Americans.
AFR has helped organize many large consumer events, including this October's "Showdown in Chicago," where consumers confronted bankers at the American Bankers Association Annual Convention.  The event generated a huge amount of media attention, and served as the groundwork for other local and state events around the country.
In New Jersey, consumers were more than willing to donate some of their time in order to help get the word out about the need for financial reform.
On November 6th, thirty activists gathered outside AIG offices in Jersey City.  By singing protest songs, waving banners, and handing out leaflets, activists got the attention of many passersby.  As people headed to the nearby PATH station to catch a train to New York City where the Yankees victory parade was occurring, many of them grabbed fliers to study as they waited, listening to activists chanting and singing, "You got bailed out; we got sold out!"
Their words had the intended effect: organizers report seeing people pulling out their cell phones and making phone calls while standing on the platform, taking just a few moments out of their day to tell AIG that they're disappointed with the company's decision to go ahead with its bonus plan, despite its inability to pay back the sum borrowed during the federal bailout.  AIG is estimated to be spending $1.2 billion on bonuses this year, even though they still owe the federal government around $182 billion.
"We think it's disgusting," says Leslie Schlesinger, an organizer with NJCA.  "And we think a lot of America thinks it's disgusting."
NJCA joined with other advocacy groups in their demand that AIG rescind the expected bonuses and take back bonuses that it has already paid out, using the argument that the executives that helped contribute to the national financial crisis should not be rewarded for their recent work.
AIG spokesman Mark Herr responded to media requests about the protest, saying that the CEO's salary had been cleared by the appropriate government office and that "the men and women of AIG continue to work diligently at rebuilding the companies, restoring shareholder value … and repaying the government."[1]
But that's not good enough for activist Paulette Everle of Jersey City, who attended the event with her seeing-eye dog and spoke to the crowd about the need for reform.  "Unemployment is at 10.2 percent and they are still working and getting bonuses with our tax dollars," she said.[2]
At Goldman Sachs a few weeks later, the demands were even more specific.  Eighteen protestors took time off from their Thanksgiving shopping to "talk turkey" outside of the Goldman Sachs office in Jersey City.  There, they asked that Goldman donate the entirety of its $23 billion in projected bonuses to foreclosure prevention programs and increase its lending for job creation.
Goldman Sachs also received bailout money, and their recent financial woes contributed heavily to the loss of American wealth in the form of depleted retirement funds, weakened portfolios, and reduced home values.  To date, Goldman Sachs still owes the government $53 billion and is making record profits.
As if it wasn't bad enough that these companies are using their bailout money to reward CEOs who contributed to the nation's financial collapse, they're also spending millions of dollars to lobby against better consumer protections.  That's right: the people who caused this meltdown are using taxpayer money to prevent real financial reform and the creation of a consumer financial protection agency.  That's why it's more important than ever that the big banks and elected officials in Washington, D.C. know where their consumers stand on the issues.  "Our legislators really need to hear from their constituents," says Leslie.  "When we finally get through to them, we get incredible responses."
New Jersey Citizen Action and Americans for Financial Reform hope to inspire even more passionate reactions from decision makers in the next few weeks as financial reform legislation moves along in Congress.  Through online advocacy, field organizing, and events like the protests in Jersey City, they seek to make sure that Congress listens to consumers, who all agree that "Enough is enough!"
---
[1]
"New Jersey Citizen Action protests bonuses, pickets AIG offices in Jersey City."
The Jersey Journal
(6 November 2009). http://www.nj.com/hudson/index.ssf/2009/11/new_jersey_citizen_action_pick.html
[2] Ibid.