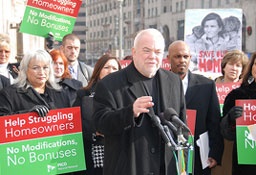 This week's bonus actions are making the airwaves.  Folks around the country are turning up to protest the huge bonuses going to top executives at the banks which sank our economy and are fighting hard against financial reform.  This story from the Christian Post is an example.
Here's an excerpt:
The religious leaders, which included representatives from the evangelical, mainline Protestant, and Jewish communities, met with members of the White House National Economic Council and delivered a letter signed by hundreds of clergy nationwide calling for reforms to hold banks accountable, keep families in their homes, and protect consumers from predatory lending.
Click here to find a protest in your area!
(Photo: PICO)