Home » Featured Story, Statements and Press Releases
The "Restoring American Financial Stability Act of 2010"
Submitted by admin on March 15, 2010 – 2:09 pm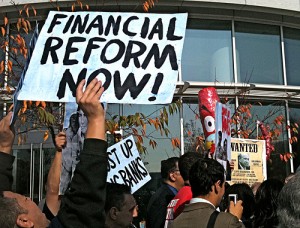 Washington, DC – Americans for Financial Reform, a coalition of over 200 groups, released the following statement today on Chairman Dodd's financial reform legislation:
Heather Booth, Executive Director, Americans for Financial Reform: "We applaud Chairman Dodd for moving forward towards passage of legislation to protect American consumers and increase the stability of the economy. The American public has been at the mercy of the Big Banks and their reckless behavior for too long, and we need to move ahead swiftly to fight back against their efforts to derail reform. We will continue to advocate for the strongest financial protections for the American people."
"While we appreciate Chairman Dodd's work, we remain concerned about aspects of the bill and believe that it must be strengthened as it moves through the legislative process. One of our key concerns is the independence of the Consumer Financial Protection Agency (CFPA). A strong and independent Consumer Financial Protection Agency must be the cornerstone of any meaningful reform. We believe the best way to structure a strong and independent Consumer Financial Protection Agency is through a stand alone agency, and we are troubled by the provisions that allow Consumer Financial Protection Agency decisions to be appealed to a council dominated by institutions that failed consumers in the past, and by holes in its enforcement authority.  Derivatives, and other elements of the shadow markets must be clearly and effectively regulated, without exceptions or loopholes that undermine these rules, and we must put real measures in place to take on the menace of 'too big too fail' banks playing heads they win tails we lose games with our economy.
"While we are still reading the language, features of the proposal we applaud include the civil rights office and mission at the CFPA, the step towards increased accountability and decreased conflict of interest at the Federal Reserve represented by Presidential appointment of the President of the powerful New York Fed, and inclusion of the corporate governance reforms which industry opponents are trying to strip from the bill.
"The Big Banks, and their army of lobbyists, are out in full force to weaken and defeat meaningful legislation. Everyday that we delay is another day the Big Banks are winning. We urge the committee to begin mark-up next week, as planned, and pass a strong bill by the Easter Recess. It has been well over a year since the Big Banks bought our economy to the edge of the abyss. It is far past time for action."
Tags:
CFPB